Summer Sculpture Show
8 June – 11 August 2019
William Bennett, Loomings, 1998-2019. Heart pine, Virginia Juniper, steel, bronze, water, wind, fabric, solar light, give away text, 26' x 6'

Ed Haddaway, Meeting Mr. Wolf, 2013. Painted steel, 7.5 x 4 x 2' and 7 x 3 x 2′

Ed Miller, Earth Embracing the Sky, 2019. Clay cement, stainless steel, steel, tree branches, 12 x 4 x 4'

Chris Stephens and Gary Colson, Claire, 2018. Indiana limestone, 77 x 15 x 15"

Charlie Lambert, Quiet, 2019. Concrete, rebar and pigment, 10 x 3.5 x 4'

James Nemer, Consent, 2019. Styrofoam, Foam Coat, Dryloc paint, 6'5" x 4′

Kurt Steger, Ascension No.5, 2012. Wood, oak burl, string, copper, pigment, 38 x 9 x 8″

Andy Rommel, Monument to a Bird, 2016. Repurposed furniture wood & parts, 13 x 12.5 x 3.5″

Nick Watson, Untitled, 2019. Stainless steel, copper, reclaimed wood, oil paint, cement, 38 x 37 x 17"

Nick Watson, Untitled, 2019.Copper, cement, oil, 32 x 7 x 9"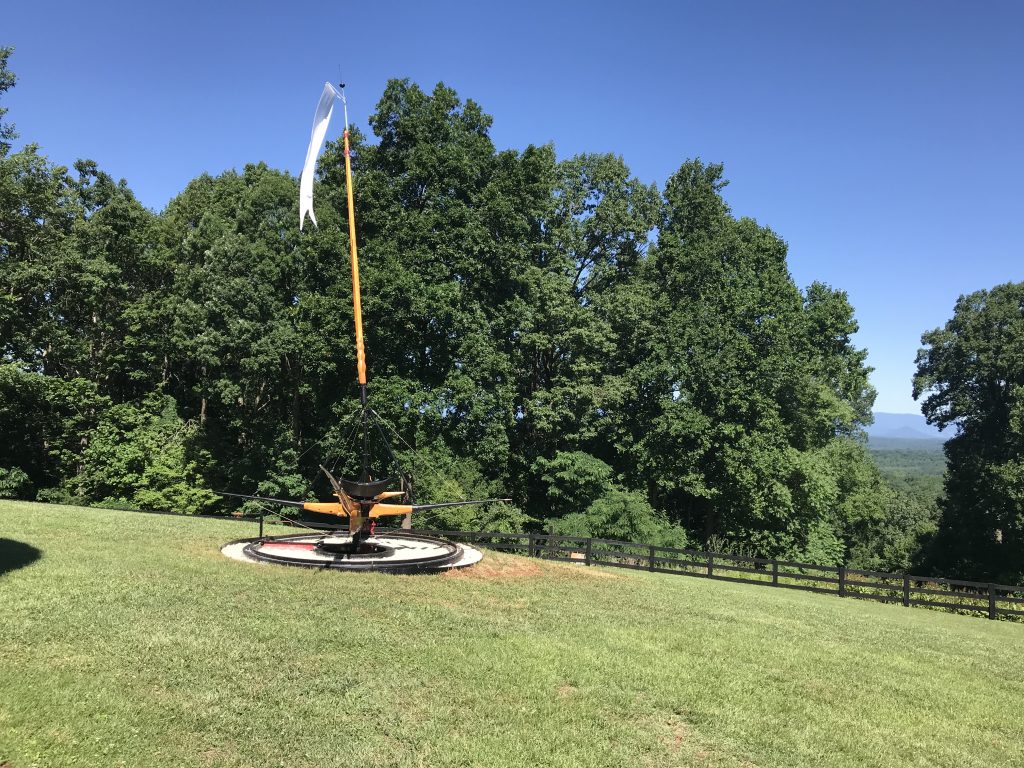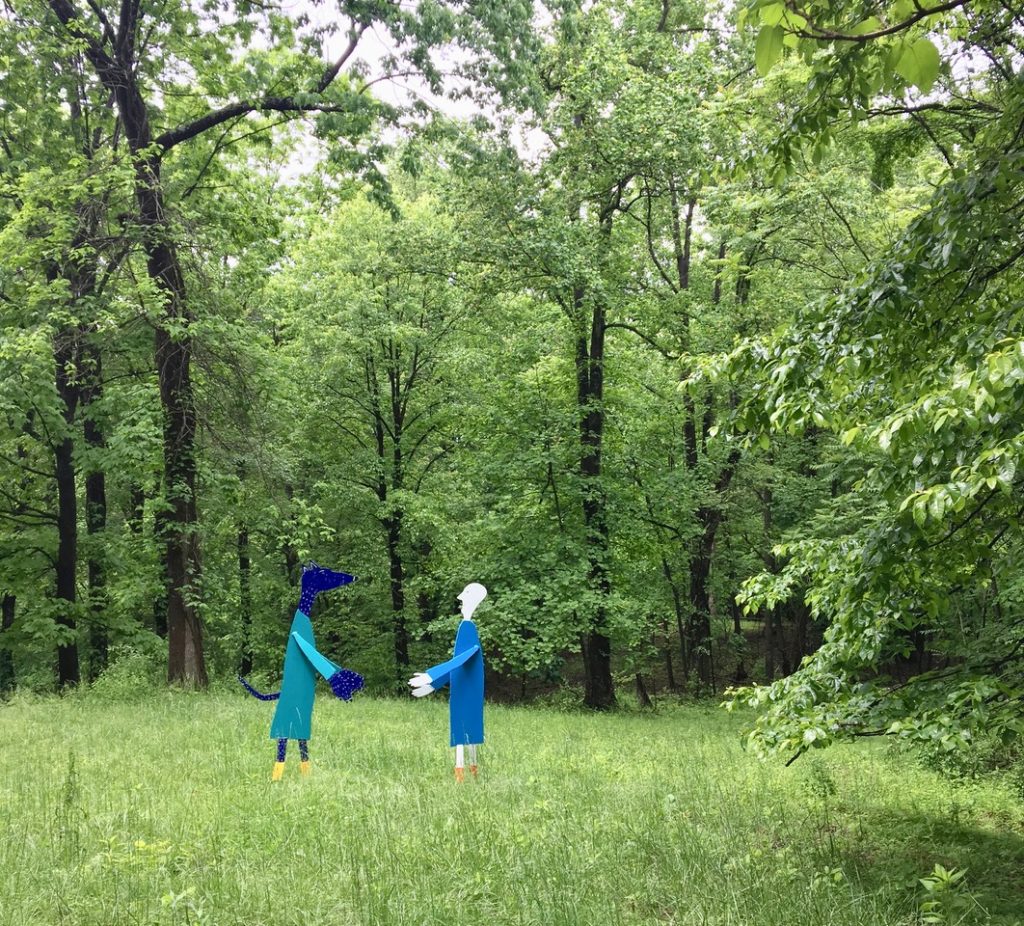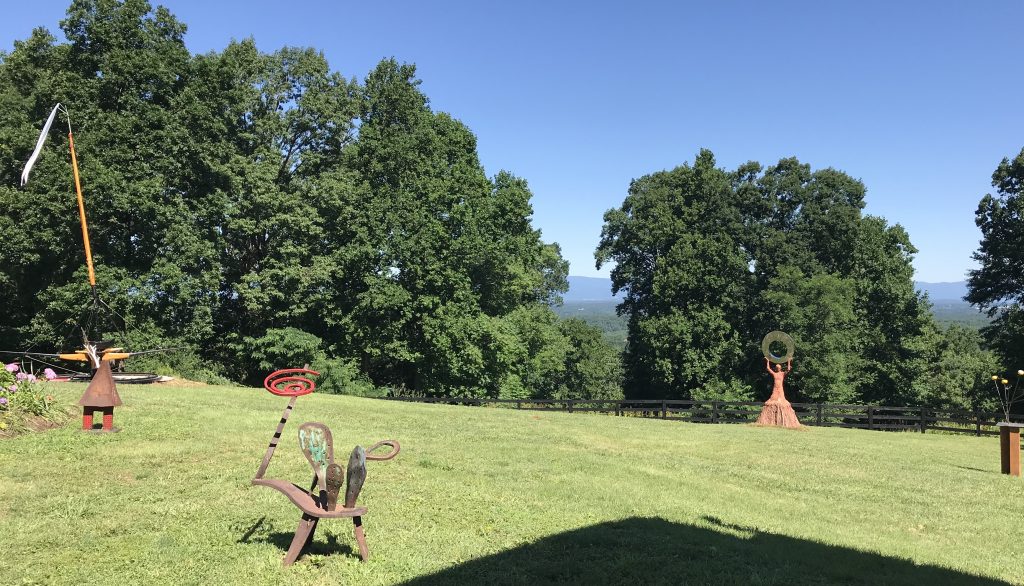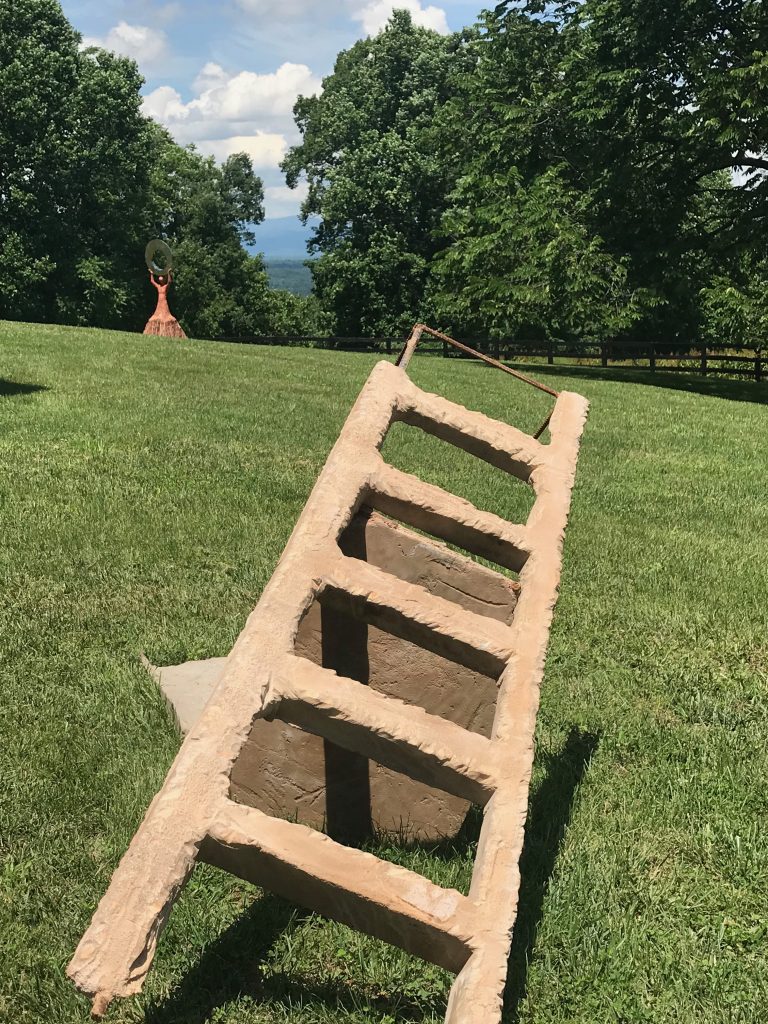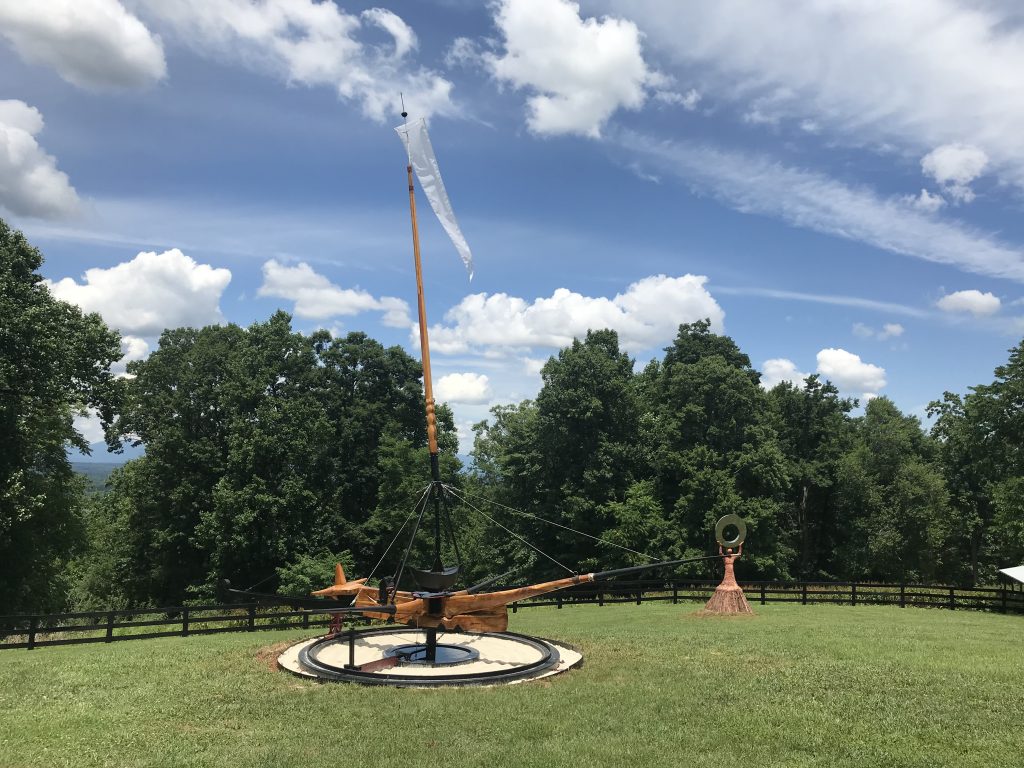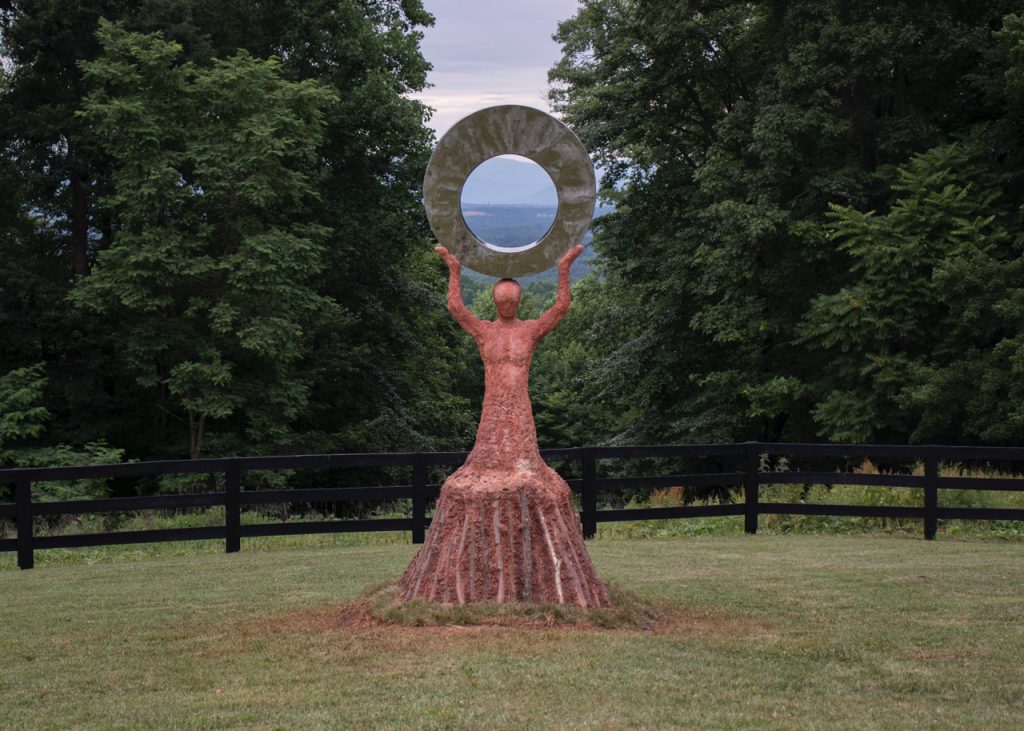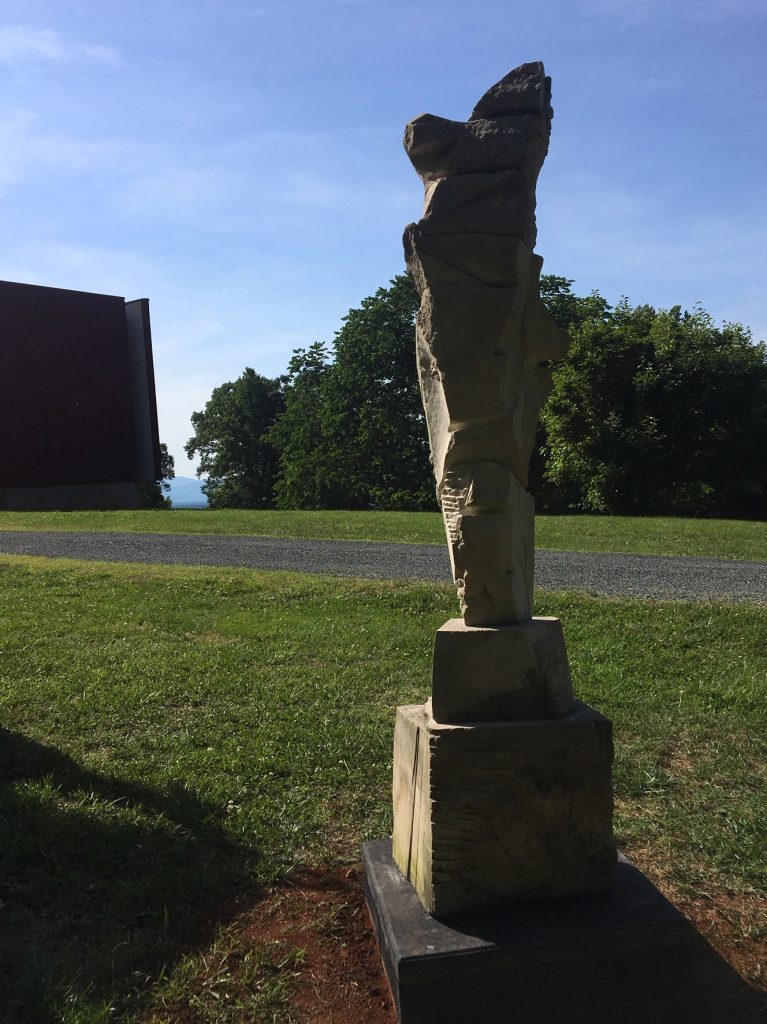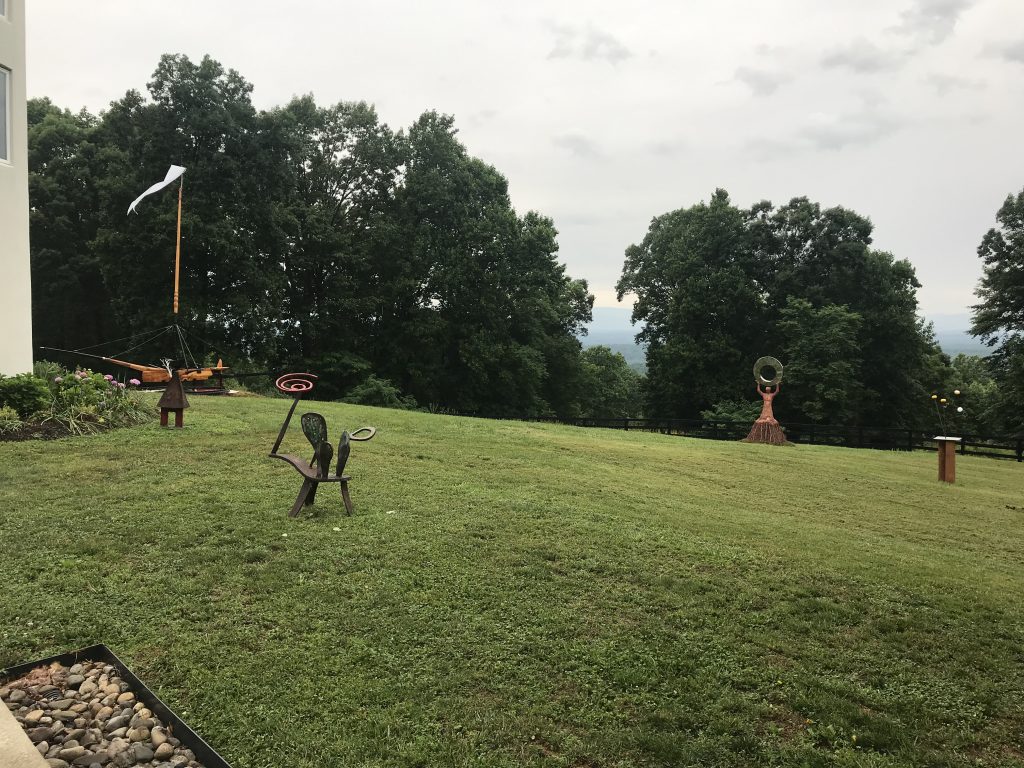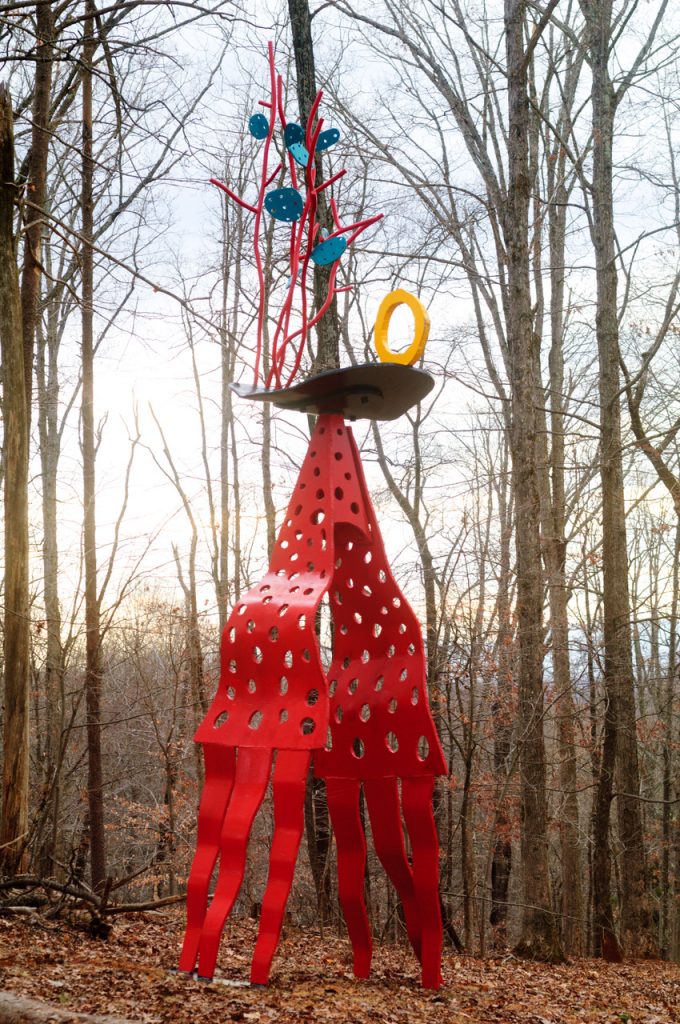 Sculptors to discuss their works at the Closing Celebration for
Landscape Re-Imaginedand Summer Sculpture Show
at Les Yeux du Monde, Sunday 11 August, 2 – 5 p.m.
UVa's Professor of Sculpture William Bennett, well known and celebrated in important books and reviews, is exhibiting Loomingsa, an impressive interactive sculpture with its origins in Moby Dick, and reconfigured to also honor the late well-loved and renowned Picasso scholar and professor of Modern Art at UVA, Lydia Gasman. His inclusion of the deep well at its lower center and its white flag at its uppermost point as well as the goddess figure pointing the way out to the horizon references Gasman's groundbreaking scholarship on Picasso's post WWII play, The Four Little Girlsand its archetypal symbolism of heaven and hell. Typical of Bennet's feeling that art should be a gift to the viewer rather than a commodity, he provides a place to sit, a handle to move the sand to make ocean-like waves, and a literal gift for each viewer in the box—a take-away text from Moby Dick.
Ed Miller, a studio and teaching assistant at UVA in the Sculpture department and also professor of sculpture and ceramics at PVCC has shown his work widely since receiving his MFA from the University of TN. His piece Earth Embracing the Sky, an over life size figure of a woman growing out of the earth, was inspired first he writes by Atlas, the Greek god who holds up the sky and heavens. This figure holds a stainless steel circular frame, which can be seen, he tells us, as a type of "moongate" or a visual entrance to the beyond. When viewers walk up to the right spot, in front of the figure, they will be able to see the surrounding landscape framed in the circle, and the view changes depending upon where the viewer stands.
Two star UVA sculpture students are represented also in this show. Nick Watson, who graduated in 2015 and then completed the coveted and prestigious year as Aunspaugh fellow and Charlie Lambert who just graduated this past May and is a current Aunspaugh Fellow. Nick exhibits two steel and copper works and a hanging piece in the gallery and Lambert has a cement ladder form leaning precariously on a slab of concrete. Instead of rising to the heavens, as most often happens in sculpture, his piece is horizontal and earthly as if to say we should also consider the broken and discarded.
James Nemer who has been working in Bennett's sculpture studio for many years, shows his striking Consent, a mammoth couple embracing, which is made not from stone as it appears but from Styrofoam painted with Dryloc to seal it, an innovative and successful new conception for sculpture medium.
Also on view on the grounds is an impressive cubist type carved Indiana limestone figure Claire by Chris Stephens and Gary Colson. The viewer is greeted by six colorful over life-sized creations in painted and rusted steel by acclaimed Albuquerque sculptor Ed Haddaway. In the gallery, along with the art on the walls by 29 artists, pieces by New York sculptor Kurt Steger and Oregon sculptor Andy Rommel reside.
William Bennett, Ed Miller, Charlie Lambert, James Nemer and Nick Watson will be on hand at the Closing Celebration Sunday, August 11 to discuss their sculptures from 2 – 5 p.m.
The gallery is open Thursday – Saturday 1 – 5 and by appointment. The Closing Reception will be on Sunday, August 11 from 2 – 5 and the sculptors will speak at 2:30 p.m.